One of the top and old websites on the internet which used to provide a professional photo retouching service is Rabbit Retouch which started their online website in March 2010.
With a beautiful yellow colored design, Rabbit Retouch service is provided for Photographers and Clients for affordable photo retouching pricing list.
As they mention in their website to be offering "some of the lowest rates in online photo restoration and retouching", with no confusing commitments to purchase credits regarding their retouching service.
And quick turnaround in 24 hours, a client should receive his photos retouched either for a photo Restoration Service or a basic photo retouching service.
Professional retouching service online
By checking the website archive, we have found the screenshot below of Rabbit Retouch website back in 2013.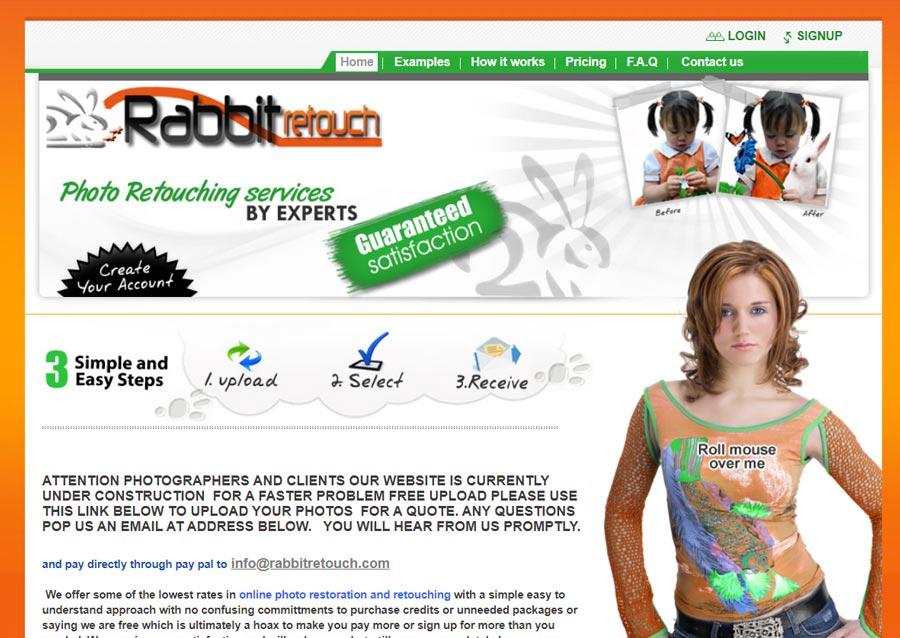 List of the services they provide
With a variety of things a client would want to do in their pictures, they provide a list of some common photo fixes that may be a client is looking for:
Skin smoothing (removing blemishes, wrinkles, and skin imperfections)
Skin airbrushing glamour magazine effect
Improve exposure (make lighter or darker)
Change backgrounds
Remove objects or people
Improve color
Special effects
Merge photos
Weight loss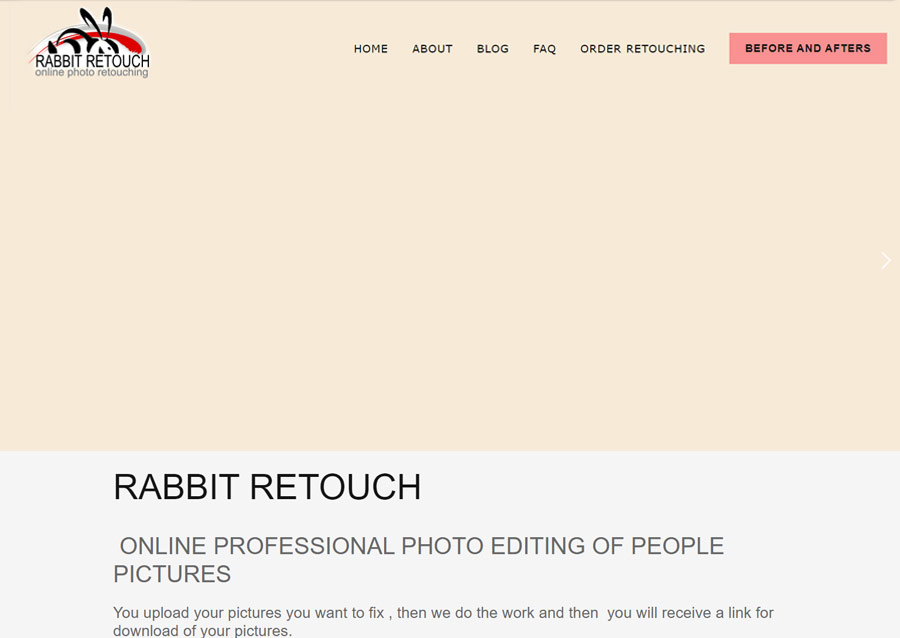 The photo is an incomplete screenshot of the website in 2015 which shows an upgrade they have made re-designing the look of their website.
Rabbit Retouch price list
While in general, face and body editing and reshaping are considered more advanced when it comes to retouching photos. However, they offered wight loss and slimming in their Basic Service.
Starting at $7 per photo for a Basic Service which is an average and good price for this level of photo retouching. The touch-ups included:
Color, exposure adjusting
Fixing red-eye
Teeth whitening
Weight loss and slimming
General cleanup
And for $14 per photo a complete retouching service, which is a higher level and more advanced High End retouching work and includes:
Extensive face retouching/magazine look
Eyeglass glare removal
Braces removal
Object add/or removal
Merging photos
Change background
Old Photo Restoration for $28 per photo for fixing and restoring old photos.
Additional custom retouching requests for a higher level of photo retouching can be done for a higher price depending on your needs and requests to be done in your pictures.
Photorelive Retouching Service
Here at Photorelive, we retouch your photos professionally for an affordable retouch rate, starting at $0.35 per photo.
With a decreasing price for clients making constant orders through the month, you can reach up to 40 % price reduction with us depending on the amount of work and photos you retouch with us each month.
Photo Restoration for old photos, and High End retouching, we are experts in the variety of photo retouching services and have been online for over 10 years providing our services for clients from The USA, Canada, Europe, and clients from Africa.
Conclusion:
Retouching photos online has been running since almost 2006 efficiently, with a variety of services and retouching levels to order provided by many companies in that regard.
Although few of these companies can understand a photographer's needs and provide a professional service, there are many companies nowadays that you can use to retouch your photos online.
Photorelive is considered to be one of the best photo retouching companies, providing the service for an affordable price.