A wedding is a once-in-a-lifetime event, and a wedding album is an essential keepsake that captures the joy, love, and excitement of that special day. creating a quality wedding album design is an art, and it requires attention to detail, creativity, and a strong sense of aesthetics.
In this post, we will explore various ways to design a stunning wedding photo album that will be cherished for years to come.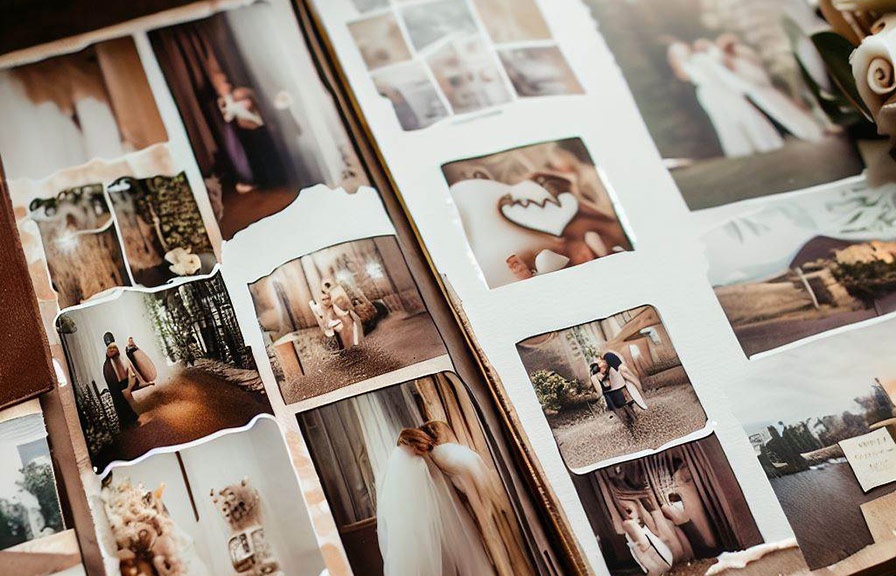 Start with a theme
A cohesive theme is the foundation of a captivating wedding album design. the theme should reflect the couple's personality and the overall atmosphere of the wedding. some popular themes include vintage, rustic, modern, and classic. once you have chosen a theme, it will guide the selection of colors, fonts, and
Other design elements.
Choose the right layout for your wedding album design
A visually appealing layout is an integral part of a wedding photo album design. there are several factors to consider when selecting a layout:
1. Balance: a well-balanced layout showcases the photos without overwhelming the viewer. strive for a mix of full-page spreads, smaller images, and white space to create visual interest.
2. Composition: the arrangement of photos on each page should tell a story, guiding the viewer through the day's events.
Consider organizing images chronologically or by theme (e.g., pre-ceremony, ceremony, reception).
3. Variety: use a mix of horizontal, vertical, and square images to keep the layout dynamic.
Selecting the best photos
Choosing the right photos for your wedding album is crucial. here are some tips for selecting the best images:
1. Quality: high-resolution images are a must for a polished wedding album design. avoid using grainy or blurry photos.
2. Emotion: select photos that evoke emotion and capture the essence of the day, such as the couple's first look, heartfelt speeches, or candid moments.
3. Diversity: include a variety of images, from close-ups and portraits to wide shots of the venue and details.
Add meaningful text and captions
Incorporating text and captions can add context and depth to your wedding photo album design. keep these tips in mind when adding text:
1. Font selection: choose a font that complements the theme and style of your wedding album design. for instance, a script font might be a good choice for a classic or romantic theme.
2. Size and placement: ensure that the text is legible and does not detract from the photos. place captions near the corresponding images and avoid covering important details.
3. Content: keep captions concise and meaningful. include names, dates, locations, and any other relevant information that adds value to the story.
Design a stunning wedding album cover
The wedding album cover design is the first thing people see when they pick up the album, so it should be eye-catching and set the tone for the rest of the book. here are some ideas for a captivating wedding album cover design:
1. Photo cover: a single, high-quality image that represents the wedding day can make a powerful cover. choose a photo with strong composition and emotion, such as the couple's first kiss or an iconic portrait.
2. Typography cover: a cover with elegant typography and minimal design can be just as striking as a photo cover. consider using the couple's names, wedding date, and a simple design element that ties into the theme.
3. Material cover: incorporate materials like leather, linen, or acrylic for a luxurious and tactile wedding album cover design. these materials can be customized with embossing, engraving, or other special finishes for added sophistication.
Use professional album design software
Using professional album design software can streamline the process and ensure a polished final product. some popular options include adobe indesign, smartalbums, and fundy designer. these tools offer templates, presets, and intuitive interfaces that can make designing a wedding album a breeze.
Seek inspiration and stay open to new ideas
When designing a wedding photo album, it's essential to stay open to new ideas, techniques, and trends. browse wedding photography blogs, social media, and design websites for inspiration. don't be afraid to experiment with different layouts, color schemes, and design elements to create a unique and memorable wedding album.
Conclusion
A quality wedding album design is the perfect way to showcase and preserve the memories of a couple's special day. by following the tips and strategies outlined in this blog post, you can create a stunning wedding photo album that will be treasured for years to come.