Did you know that humans process visual information 60,000 times faster than textual information? that's right! in today's fast-paced digital world, capturing consumers' attention with eye-catching product photos is more important than ever. in this blog post, we'll share some creative ideas and tips on how to use lighting and props
To create visually appealing product photos and highlight your product's features.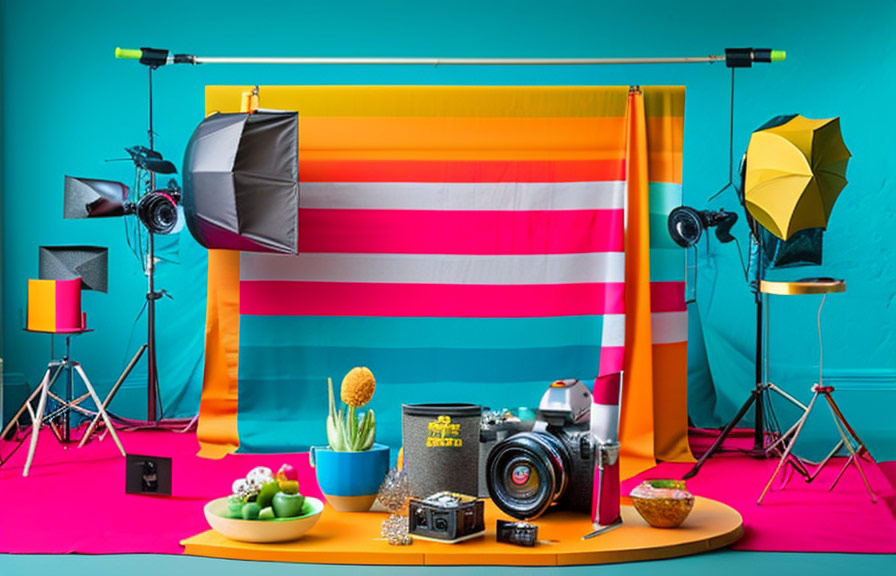 Lighting: the key to captivating product photos
One of the most critical aspects of creating a visually appealing product photo is lighting. proper lighting can accentuate your product's features, create depth, and set the mood for your image. here are some tips on how to use lighting effectively in your product photography:
1. Use natural light: natural light is one of the best sources of light for product photography. to take advantage of natural light, shoot near a window or outdoors during the golden hours (just after sunrise and before sunset).
This will give your photos a soft, warm glow and reduce harsh shadows.
2. Experiment with artificial light: if natural light isn't available, don't worry! you can use artificial light sources like studio lights or even household lamps to create the desired effect. play around with the intensity and direction of the light to find the perfect balance for your product.
3. Use reflectors: reflectors help bounce light onto your product, filling in shadows and creating a more even lighting. you can use professional reflectors or even improvised ones like white foam boards or aluminum foil.
4. Try backlighting: backlighting is a technique where the light source is placed behind the product, creating a silhouette effect. this can add an air of mystery to your product and make it stand out from the competition.
Props: adding context and personality to your product photos
Using props in your product photography can help tell a story, showcase your product's features, and add personality to your images. here are some creative ideas for incorporating props into your product photos:
1. Use everyday objects as props: look around your house, and you'll find plenty of items that can serve as interesting props. books, plants, and kitchen utensils are all great options. just make sure the props complement your product and don't overpower it.
2. Create a themed setting: adding a backdrop or setting that matches your product's theme can help create a cohesive and visually appealing image. for example, if you're selling a camping product, consider shooting in a wooded area or using camping accessories as props.
3. Show your product in use: demonstrating how your product is used can help potential customers understand its benefits and features. for example, if you're selling a kitchen gadget, show it in action, preparing a delicious meal.
4. Add a pop of color: using colorful props can make your product stand out and catch the viewer's eye. choose colors that complement your product and create a visually appealing contrast.
Highlighting your product's features
Now that we've covered lighting and props let's discuss how to highlight your product's features in your photos. here are some tips to help you showcase what makes your product unique:
1. Choose the right angle: experiment with different angles to find the one that best showcases your product's features. for example, if you're selling a pair of shoes, a side view might highlight their unique design, while a top view could emphasize the shoe's comfort features.
2. Get up close and personal: use close-up shots or macro photography to capture your product's details and textures. this can help potential customers appreciate the craftsmanship and quality of your product.
3. Use focus stacking: focus stacking is a technique where you take multiple photos with different focal points and combine them into a single image with sharp focus throughout. this can be especially helpful for showcasing small details on your product.
4. Include descriptive captions: don't forget to include informative captions that describe your product's features and benefits. this will help potential customers understand what sets your product apart from the competitionand make an informed decision.
Fun fact: the impact of color in product photography
Color plays a significant role in product photography, as it can evoke emotions, create a mood, and even influence purchasing decisions. in fact, studies have shown that 90% of snap judgments made about products are based on color alone!
So, when choosing props and backgrounds for your product photos, carefully consider the colors you use and the emotions they might evoke.
The power of editing: enhancing your product photos
After you've taken your product photos, it's time to make them even more eye-catching with some editing magic. here are a few tips to help you enhance your images:
1. Adjust the brightness and contrast: use editing software to fine-tune the brightness and contrast of your images, ensuring that your product stands out and the colors are vibrant.
2. Crop and straighten: sometimes, a simple crop or straightening adjustment can make all the difference in creating a visually appealing composition.
3. Remove any distractions: use tools like the clone stamp or healing brush to remove any unwanted elements from your photos, such as dust or scratches.
4. Add filters or effects: while you don't want to overdo it with filters, adding subtle effects can enhance your images and create a unique, cohesive look across your product photos.
Conclusion
Creating eye-catching product photos that grab attention requires a combination of effective lighting, the strategic use of props, and highlighting your product's features. with these creative ideas and tips, you're well on your way to capturing stunning images that will captivate customers and boost your brand's visibility.
Remember, in today's highly visual digital landscape, the quality of your product photos can make or break a sale. so, invest time and effort into perfecting your product photography skills, and watch your online presence and sales soar.
Happy shooting!