Did you know that the art of makeup and highlighting in photographs dates back to the early 20th century? yes, even before the era of digital photos and editing software, photographers and makeup artists would meticulously work together to create stunning images.
In today's world, we have an incredible array of tools and techniques at our disposal to achieve the perfect look in our photos. this blog post will guide you through the process of getting a face make up and highlighting in your photo, using photorelive retouching service, and answering some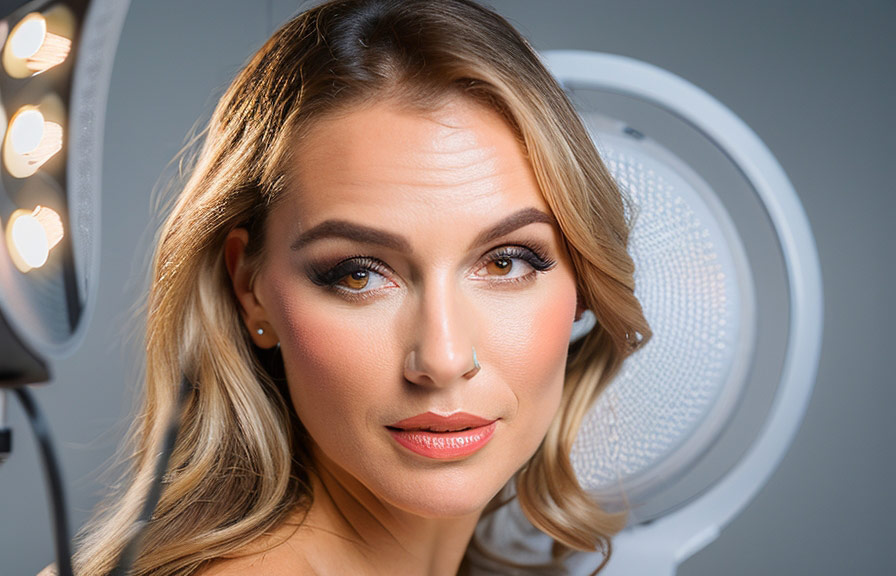 Of the most common questions about makeup in photography.
The secret to makeup that shows up in pictures
Have you ever wondered why your makeup doesn't seem to show up in photos, despite looking amazing in person? the answer lies in the difference between how our eyes perceive light and color, and how cameras capture and reproduce them.
To get makeup to show up in pictures, you need to take into account the lighting conditions, the camera settings, and the makeup products you are using.
1. Lighting: soft, diffused lighting is key for capturing makeup in photos. this type of lighting eliminates harsh shadows and ensures that your makeup appears even and well-blended. if possible, try to take photos in natural light or use a ring light to achieve a similar effect.
2. Camera settings: adjust your camera settings to capture the best possible image. ensure that your camera is set to the highest resolution, and consider using a slightly higher iso to capture more detail in the makeup.
You might also want to experiment with the white balance settings to get the most accurate color representation.
3. Makeup products: choose makeup products that are specifically formulated for photography, such as high-definition (hd) foundations and powders. these products are designed to look natural and flawless in photos, without appearing cakey or overly shiny.
Mastering the art of face highlighting and contouring
Highlighting and contouring are essential techniques for defining and enhancing the features of your face in photos. here's a step-by-step guide on how to highlight and contour your face for pictures:
1. Choose the right products: use a matte bronzer or contour powder that is two shades darker than your skin tone for contouring, and a shimmery highlighter that is two shades lighter than your skin tone for highlighting.
2. Contour your face: apply the contour powder to the areas of your face that you want to recede or create shadows, such as the hollows of your cheeks, the sides of your nose, and the temples.
Use a small, angled brush for precise application and blend the product well to avoid harsh lines.
3. Highlight your face: apply the highlighter to the high points of your face that you want to catch the light, such as the tops of your cheekbones, the bridge of your nose, the cupid's bow, and the brow bone.
Use a small, fluffy brush to apply the product and blend it into your skin for a natural-looking glow.
4. Blend everything together: to make the highlighting and contouring look seamless, use a clean, fluffy brush to blend the products together. this will help to create a smooth transition between the different shades and ensure that your makeup looks flawless in photos.
The ultimate photo retouch: photorelive retouching service
Even with the perfect makeup application, sometimes our photos still need a little touch up. that's where photorelive retouching service comes in. this professional photo retouch service offers a wide range of editing options, from simple photo touch up to advanced photo retouch, ensuring that your images look their absolute
Best.
By using photorelive retouching service, you can enhance the makeup and highlighting in your photos, ensuring that they stand out and look flawless. the skilled retouchers will carefully adjust the lighting, colors, and details in your images, creating a stunning final result that you'll be proud to share.
Discover the app that shows where to contour your face
In the age of smartphones, there's an app for almost everything, including makeup application. one such app that can help you with contouring your face is the *youcam makeup* app. this app uses augmented reality (ar) technology to apply virtual makeup to your face in real-time, showing you exactly where
To apply your contour and highlight products.
With the *youcam makeup* app, you can experiment with different makeup looks and techniques, ensuring that you get the perfect face make up and highlighting in your photos.
Conclusion
Getting the perfect face makeup and highlighting in your photos is a combination of using the right makeup products, mastering the art of highlighting and contouring, and taking advantage of professional photo retouch services like photorelive retouching service.
By following the tips and tricks outlined in this blog post, you'll be well on your way to capturing stunning images that showcase your makeup skills to the world. happyphoto-taking and makeup application!